Hello everyone. Thank you for accepting me to your forum. They are an absolute wealth of information!
I recently came across a photograph of my Great Uncle: Clifford Donald Sutherland (1921-1999) of Winnipeg. Our extended family has always known about his service in World War II, but never anything in detail. He and his wife did not have any children so he never really passed along any information or stories except for a few instances.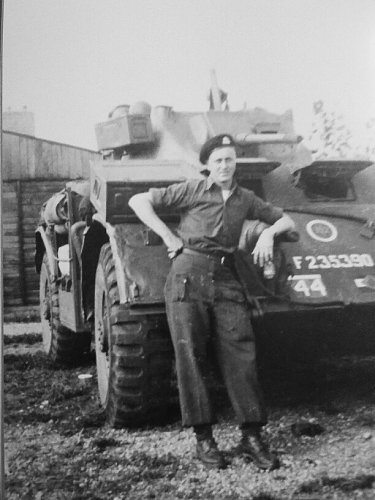 As you can see, Cliff standing in front of a T17E1 Staghound. The caption on the back of the photo (apparently added by an unknown family member) states: "Cliff and his Tank, early 40's".
Up until finding this picture, I must admit I knew very little about the 12th Manitoba Dragoons. The great thing is that all his car's markings in the image are in plain view and relatively clear. After further research (more like obsessing over), I've come to the following conclusions and I'm hoping some forum members might be able to confirm my findings?
So do I have this right from the markings on the Staghound that Cliff would have been with the 2nd Canadian Corps, 18th Armoured Car Regiment (12th Manitoba Dragoons), "C" Squadron, 15th Troop?
The Squadron marking on the car is hard to read in my cell-phone pic but my copy of the photograph very clearly shows the number "152". After researching various threads and other sites, am I correct in thinking that this would have been the "Seargent's Car" for 15th troop ("151" being the "Lieutenant's Car")?
Based on the few stories Cliff passed on to others, we believe he may have been the Co-Driver / Ball Gunner. One relative thought he was a driver, but another heard he was a gunner so this seems to be the logical conclusion?
One story he mentioned was that during patrols at night along a waterway, he and another crew member would disembark from vehicle and walk along the edge of the dyke with their Zippo lighters lit and held up giving the driver a reference for the edge so he wouldn't drive over into the waterway. My thought is that the ball gunner would have the easiest time exiting the vehicle for this task?
Anyways, my apologies for the long post. If anyone has any thoughts or insight, I would greatly appreciate them!
Thanks, Darren