Quote:
Originally Posted by
David Dunlop

Are you thinking of selling those, Tony?
If you use a photo of them next to a pair of Wellies, you might be able to run the price up a bit.
Think about it. Then go shake your head.

Cheers,
David
No David, not selling those levelling things. In fact the opposite. If they are worth buying, I might get them, BUT only if they are worth spending money for.
Re Transport: Your observations are how I found things here also. To bring me those 25pr trails parts, I settled on a fellow who knows the seller. Seller is in very rural area, so nobody wanted to go get the parts without huge expense. Also, size of main piece is larger than standard pallet, so up goes the price again. Then, because it's fairly weighty, up goes the price further. The sellers contact is travelling out to see him in near future, so he will retrieve parts at that time, and isn't charging for that service because he's there anyway. The total cost is very reasonable. I do need to be patient in waiting for that visit out there though. It'll be good therapy for me!
I've checked over the recently acquired firing platform closely today. I don't think it will need as much work as I was mentally preparing for. Sure there's a number of stress cracks and some corrosion, but i have a near neighbour (read as my soon best friend) who could weld two cat turds together. I'm sure I can induct him.
Incidentally, if anyone is going to be in Brisbane at time of ANZAC Day parade, come say hello.
I'll be wearing this shirt!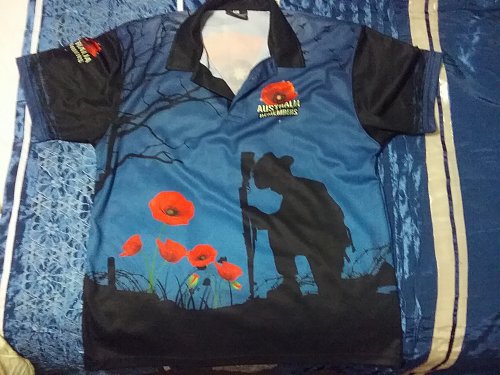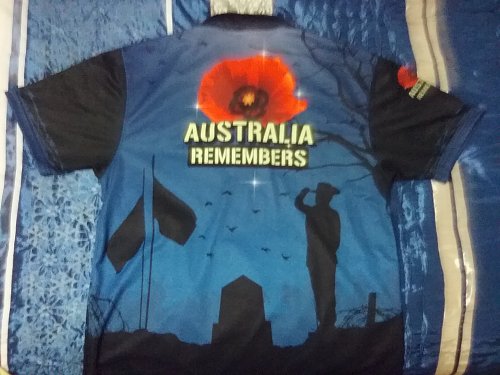 Will be wearing my suit for Dawn Service, of course!