Title: TRACKS – the Magazine commemorating the LRDG
Issue: No.1 June 2021
Editorial, Layout & Design: Kuno Gross
MLU Forum member
Kuno Gross
is an experienced desert traveler and published author on desert warfare and aviation (e.g. "
Incident at Jebel Sherif
", "Operation Salam", "Bagnold Sun Compass", "Pilatus SB-2 Pelikan").
The publication of this magazine was triggered by a copy of the June 1941 issue of TRACKS, the "house paper" of the LRDG of which only a single issue was published. Kuno was fascinated by this window into the past and published what may be seen as the second edition of TRACKS, 80 years after the first one. He found some notable LRDG experts willing to contribute to this magazine, including Sam Watson, John Valenti (LRDG Preservation Society) and others.
As I provided some vehicle information, I was given a copy as a sneak preview. As it is a magazine well worth reading, I am happy to present this review.
This issue of TRACKS provides the reader with a well balanced mix of articles like historical backgrounds on people and events, review of historical sites, battlefield finds, technical details on the vehicles used by the LRDG and some glimpses into the original issue of TRACKS. See the full table of contents below.
While pictures of the LRDG
Ford F30 CMP truck with census number L4406114
sitting in the Sand Sea near Ain Dalla have been shown on the internet and printed media before, this magazine is the only one I have read that publishes a detailed research into its history. It is amazing to see how much Ian Chard managed to deduct from a satchel full of British Army B111 service conduct sheets which was found behind the driver's seat in 1975.
It is that level of detail, researched and written by authors with a deep knowledge of the LRDG, what makes this magazine worth recommending to anyone in interested in the LRDG and the desert war in WW2 in general.
Note: by buying this magazine, either in print or pdf-format, you are supporting the publication of the next edition.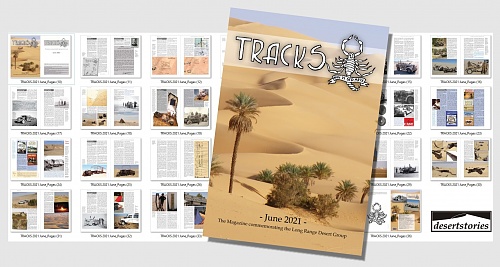 CONTENT 2021
• Editorial Note: Kuno Gross
• Foreword: Lieut Col R.A. Bagnold
• Forte el Gtafia, shelled by the Artillery Section: Kuno Gross
• LRDG Desert Poems: Private J.M. Williamson, R Patrol
• Kufra, a historical Note: Capt. W.B. Kennedy Shaw
• Long Range Desert Group Preservation Society: Jack Valenti
• Chevrolet WA or WB? What type of trucks: Kuno Gross
• "Big Cairn", the loneliest Pile of Stones: Andras Zboray
• The LRDG in Greece, Jeep and Trailer: Erik Ahlström
• Who was Norman Moore? The editor of TRACKS: Ian Chard
• The Sand Tyres, "Shoes" of the Patrol Trucks: Charlie Down
• Brendan O'Carroll's Books: Bob Amos-Jones
• Now and Then, Halt at Gilf Kebir: Kuno Gross
• B122 Conduct Forms, Witnesses of the Past: Ian Chard
• "Sand Channels": Sam Watson
• The SRD Rum Jar from Siwa: Sam Watson
Magazine details:
• Publisher: BoD – Books on Demand; 1st edition (24 Mar. 2021)
• Language: English
• Paperback: 52 pages
• ISBN-10: 3752608382
• ISBN-13: 978-3752608380
• Dimensions: 19 x 0.3 x 27 cm
Ordering details:
Contact Kuno Gross via
info@desertstories.org
for details on how to order TRACKS 2021. It can be ordered in bookshops also. Price is EUR 18,-- including shipping.